Triton All-In-One Irrigating Solution replaces all irrigants and provides consistent cleaning and predictable outcomes.
Unlike traditional irrigants or other advanced 2:1 solutions, Triton® works differently by avoiding the use of EDTA and CHX altogether. The non-NaOCl components in Triton proactively dissolve the dentinal debris, allowing for a lower concentration of NaOCl to be exposed to organic debris without as much buffering. Synergistic and simultaneous dissolution of organic and inorganic debris permits the clinician to use lower volumes of irrigation solution and ensure maximum clinical efficiency.
Efficient and effective
By using a lower concentration of NaOCl and a patent-pending proprietary blend of surfactants and gentle chelating agents, Triton is the first irrigant to deliver all of the benefits of NaOCl, EDTA, and CHX in a single-step all-in-one irrigation solution. NaOCl is rapidly neutralized upon contact with EDTA (and inorganic dentinal debris). Triton maintains an effective NaOCl concentration for organic tissue dissolution while simultaneously allowing for inorganic debris removal in just one step.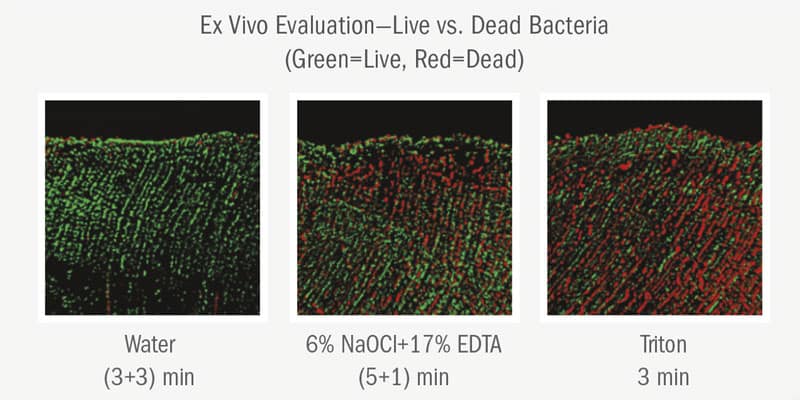 The efficacy of various irrigants against E faecalis biofilm was investigated both with and without dentin chips present. In the presence of dentin chips, only Triton was able eliminate all E faecalis. And Triton kills bacteria more quickly. In an ex vivo evaluation of live versus dead bacteria comparing three  different irrigation protocols, Triton was more effective than 6% NaOCl + 17% EDTA in half the time.
Features and benefits at a glance
Multifunctional single irrigation solution reduces chair time, procedural steps, and overall irrigation costs
Simultaneous organic and inorganic debris removal
Less cytotoxic than 6% NaOCl with EDTA
More effective at smear layer removal versus NaOCl with EDTA
Dissolves organic tissue up to 1.7x faster than traditional NaOCl
Tested and proven effective by world-renowned endodontists, Triton has quickly become a preferred irrigation protocol because of its convenience and ease of use. It replaces all irrigants with a single, lower concentration NaOCl-based solution and provides consistent cleaning with predictable outcomes. Besides reducing chair time by eliminating the need for multiple irrigation solutions and sterile water rinses, Triton is also cost-effective. It reduces the number of single-use disposable syringes and tips you will require. In some cases, Triton can cut your total irrigation cost per procedure in half.
Dr. Allen Ali Nasseh of Real World Endo notes the benefits of Triton to his Boston, Massachusetts-based practice: "Triton addresses the most essential and fundamental needs of endodontic irrigation in one solution. The sodium hypochlorite component provides tissue dissolution and disinfection while the novel combination of gentle chelating agents and surfactants simultaneously provide inorganic debris dissolution, saponification, and lubrication. Triton provides soft tissue digestion, surface disinfection, and demineralization of the debris all at once, making it a truly synergistic solution that greatly simplifies the irrigation process."
About Brasseler USA®
Since 1976, Brasseler USA has focused on developing products and providing services that support the practice of core operatory procedures. Today Brasseler USA® is the premier dental instrumentation company in North America offering the most extensive selection of dental and surgical instrumentation under one brand.
To order, call 800-841-4522 or fax 888-610-1937. In Canada, call 800-363-3838. Visit the website at BrasselerUSA.com.
This information was provided by Brasseler USA®.
Stay Relevant in Endodontics
Sign up for webinar invitations, peer-written articles, and cutting-edge case studies.