Brasseler USA provides a full line of bioactive materials that offer excellent healing and handling characteristics.
Brasseler USA's EndoSequence brand of materials consists of several different types of bioactives that are designed for specific clinical applications. This article will describe these different products along with their features, benefits, and indications for use. Prior to reviewing the products, it is helpful to understand the difference between pure bioceramic materials and bioactive materials. Bioactives are generally categorized as any product that elicits a positive biological response. In dentistry, the response is typically realized in the form of a release of beneficial calcium, phosphate, or fluoride ions. Bioactives can include non-bioceramic components, as they are defined by what they are designed to do and not by their compositional makeup.
Bioceramics are different in that they are defined by both their composition and what they are designed to do. Bioceramics are essentially any inorganic, ceramic material (refractory polycrystalline compounds) used in medicine and dentistry. Brasseler's bio-ceramics are pure calcium silicate, calcium phosphate-based bioceramics, which are designed to set hard in the presence of the moisture naturally present in dentin. It is important to note that according to these definitions, products consisting of metals and/or resins are not pure bioceramics. Table 1 lists each of the Brasseler bioactive products along with its primary active components, consistency, and applications.
Brasseler pure premixed bioceramic materials
These materials include the BC Sealer, BC Sealer HiFlow, and BC RRM Paste and Putty. They are patented, premixed, calcium silicate, calcium phosphate-based bioceramics designed for maximum biocompatibility, healing, and optimal handling. These materials have been sold globally for over 13 years and have been used in over 50 million clinical cases. There are over 150 published research papers on these materials, including animal and outcome studies. These materials are void of any non-bioceramic components such as metals and resins.
Brasseler hybrid bioactive materials
These materials include BC Liner™ and BC Temp™. These materials contain some components that are not defined as bioceramics. The non-bioceramic components of these products were incorporated to overcome the inherent challenges of pure premixed bioceramics. BC Temp includes components that prevent the material from setting hard, which allows it to be easily removed (intracanal dressing). BC Liner includes components that allow for light curing and for optimal strength and wear characteristics. Both of these materials are bioactive and highly compatible with Brasseler's pure premixed bioceramics. (BC Temp contains calcium silicates and releases calcium and hydroxyl ions, and BC Liner releases calcium, phosphate, and fluoride ions).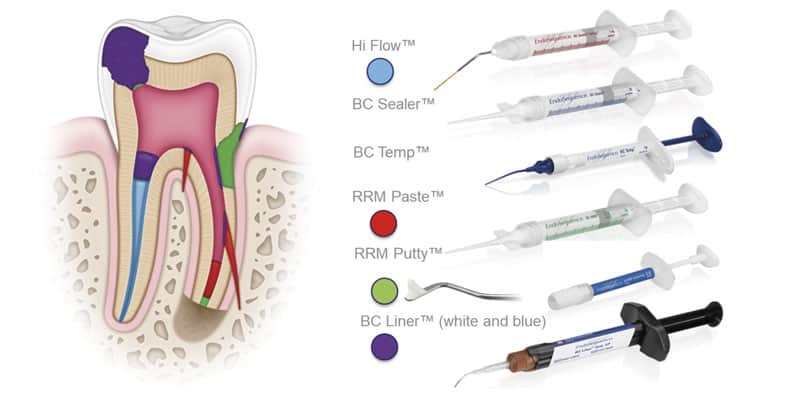 Clinical applications
Figure 1 shows the applications for Brasseler's full line of bioactive materials.
The BC Sealer and BC Sealer HiFlow are used for obturation (ortho- or retrograde as a root-end filling capped with a plug of putty). HiFlow is optimized for warm condensation methods, and BC Sealer is optimized for cold hydraulic condensation.
BC RRM Paste is slightly thicker than BC Sealer and can be syringed into a site for perforation repair or pulp capping. BC Paste should be used for difficult to reach repair procedures where you would normally utilize the MAP system with MTA.
BC RRM Putty/Fast Set Putty is used for all repair procedures where you would like to condense the material and where you need strong resistance to washout. It is ideal as pulp cap and retrofilling.
BC Temp is an intracanal dressing that gradually releases hydroxyl and calcium ions maintaining a steady pH, and it is easily delivered and removed.
BC Liner is a multifunctional, light-curable, patented RMGI that is optimized for use with BC Sealer/RRM. It is extremely strong and has excellent wear characteristics. It can be placed over the top of unset BC RRM after repair of a perforation, resorptive defect, or pulp-capping procedure. The blue version is most often utilized as an orifice barrier, and for this application a bonding agent is not needed.
Summary
Brasseler's complete line of bioactive materials has been thoughtfully developed to cover all of your endodontic material needs while providing you with the best healing and handling characteristics. Thank you for making Brasseler your trusted leader in bioactives. To learn more and to read our extensive research bibliography, please visit BrasselerUSA.com, or contact Brasseler at 800-841-4522.
This information was provided by Brasseler USA®.
Stay Relevant in Endodontics
Sign up for webinar invitations, peer-written articles, and cutting-edge case studies.