ASI Medical's new specialty microscope chair was designed with the McKenzie Method in mind, which found that certain movements and postures can relieve pain and restore function.
The convex, flexible backrest strongly supports the natural lumbar curve, even in a relaxed position.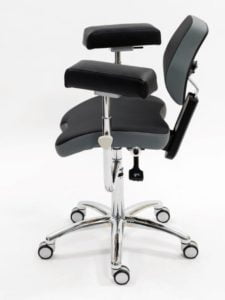 Two styles of armrests are available: telescoping, for those who prefer more forearm support, and padded, for more elbow support.
An adjustable front seat lowers the knees to below the line of the hips, transferring weight from the spine into the legs.
The front edge of the seat then adjusts to the angle of the legs, comfortably supporting the legs while maintaining circulation.
The non-slip Valencia TM upholstery with PermablockTM protective finish is durable and easily cleaned.
Multiple cylinder sizes are available to accommodate all heights.
Introductory pricing is available. Visit asimedical.net or call 1 (800) 566-9953 for details
Stay Relevant in Endodontics
Sign up for webinar invitations, peer-written articles, and cutting-edge case studies.