Connecting with patients and colleagues

Christmas cookies from one of my favorite patients to me and my staff
What can you tell us about your background?
I attended SUNY Fredonia for undergrad, earning a BS degree in Biology, and was two courses short of a bachelor's degree in genetics. While in undergrad, I volunteered at a VA hospital dental clinic to test the waters on going into dentistry and enjoyed it, so I applied to dental school. After graduating from Howard University College of Dentistry in 1986, I started a general practice in Silver Spring, Maryland.
Is your practice limited to endo-dontics?
I am a general practitioner who enjoys many areas of dentistry, including endodontics.
How long have you been practicing, and what systems do you use?
I have been in practice coming up on 32 years and had the benefit of using most endodontic systems on the market over that time. The systems I am predominately using these days are V-Taper™ 2 (SS White), Dia-X (DiaDent®), Aurum Pro™ (Meta® Biomed), and EndoSequence® (Brasseler USA®).
What training have you undertaken?
I have always been an education junkie, taking CE to broaden my knowledge and skills in numerous areas of dentistry and accumulating over 4,800 hours of CE over the past almost 32 years. Additionally, I have published over 585 articles, and in writing those, I have needed to read and absorb lots of research and keep up on the literature.
Who has inspired you?
My inspirations have been Drs. Anne Koch, Dennis Brave, C.J. Munce, and Steve Buchanan in Endodontics; Drs. Carl Misch, Leonard Linkow, Scott Ganz, Lanka Mahesh, Hilt Tatum, Jack Wimmer, and Norman Cranin in Implantology; Drs. Steve Wagner and Burt Melton in Removable Prosthetics; and Drs. Howard Strassler, David Clark, and Gerald Benjamin in Restorative Dentistry, to name a few.
What is the most satisfying aspect of your practice?
When patients tell me they appreciate my treatment, how I have helped improve their lives by giving them a better-looking smile that allows them to eat better.
Professionally, what are you most proud of?
That through my articles and sharing knowledge, how I have been able to touch many dentists' lives, how at meetings they come up and tell me how a particular article helped them. I can understand how articles connect with people and help them but am always amazed that people remember who wrote an article.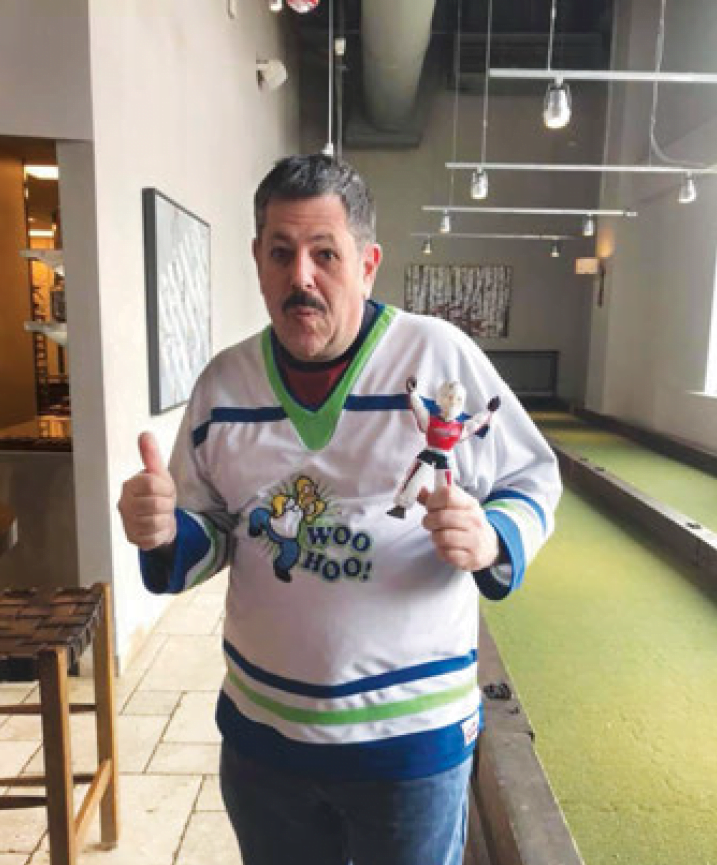 What do you think is unique about your practice?
Most practitioners focus on a narrow area of dentistry as that's where their interests fall. I have always been multifaceted in my interests, and dentistry is no different. I think my patients benefit from this as I can provide a wider range of care they may need or when referring them to a specialist, and have a better understanding of what is needed than the average GP may have.
What has been your biggest challenge?
As with most practitioners, dealing with dental insurance companies dictating what treatment they will cover verses what treatment is best for that patient. As in most areas of life, basing health decisions on profit are not usually the best decisions, and insurance companies will always place profit over care.
What would you have become if you had not become a dentist?
Having grown up with dogs, my first choice on career as a young child was to be a veterinarian. But as I got older, I realized that although I love animals, I tended to get emotional with ill and injured animals and felt I wouldn't be able to handle that on a daily basis. But in the past few years, I was able to combine my love of dentistry and animals with a friend who is a veterinary dentist. We published some articles on implants in cats and dogs. This allowed me to help those who treat animals to expand the treatment options they can offer their patients.

Showing Paula Deen that a stick of butter per serving isn't necessary when cooking (left) and Our youngest cat, Wolfie, showing why we think he's part werewolf (right)
What is the future of endodontics and dentistry?
Technology continues to expand in dentistry both material-wise and equipment-wise. This also is true in endodontics. We will continue to see materials that are more biocompatible, bond better with tooth structure, and are antibacterial to provide stronger reinforced teeth and roots. When I started dental school 36 years ago, little had changed over the prior 2 decades. As I moved through dental school, materials and technology used in other areas started filtering into dentistry. Impression materials went from rubber-base to vinyl polysiloxanes (VPS). We started truly bonding resins to teeth. Endodontics went from hand filing with stainless steel files to rotary NiTi. Obturation went from sealers that were irritating if extruded out the apex to biocompatible ceramics. More products and better technology are approaching as more science from outside dentistry filters in to our field.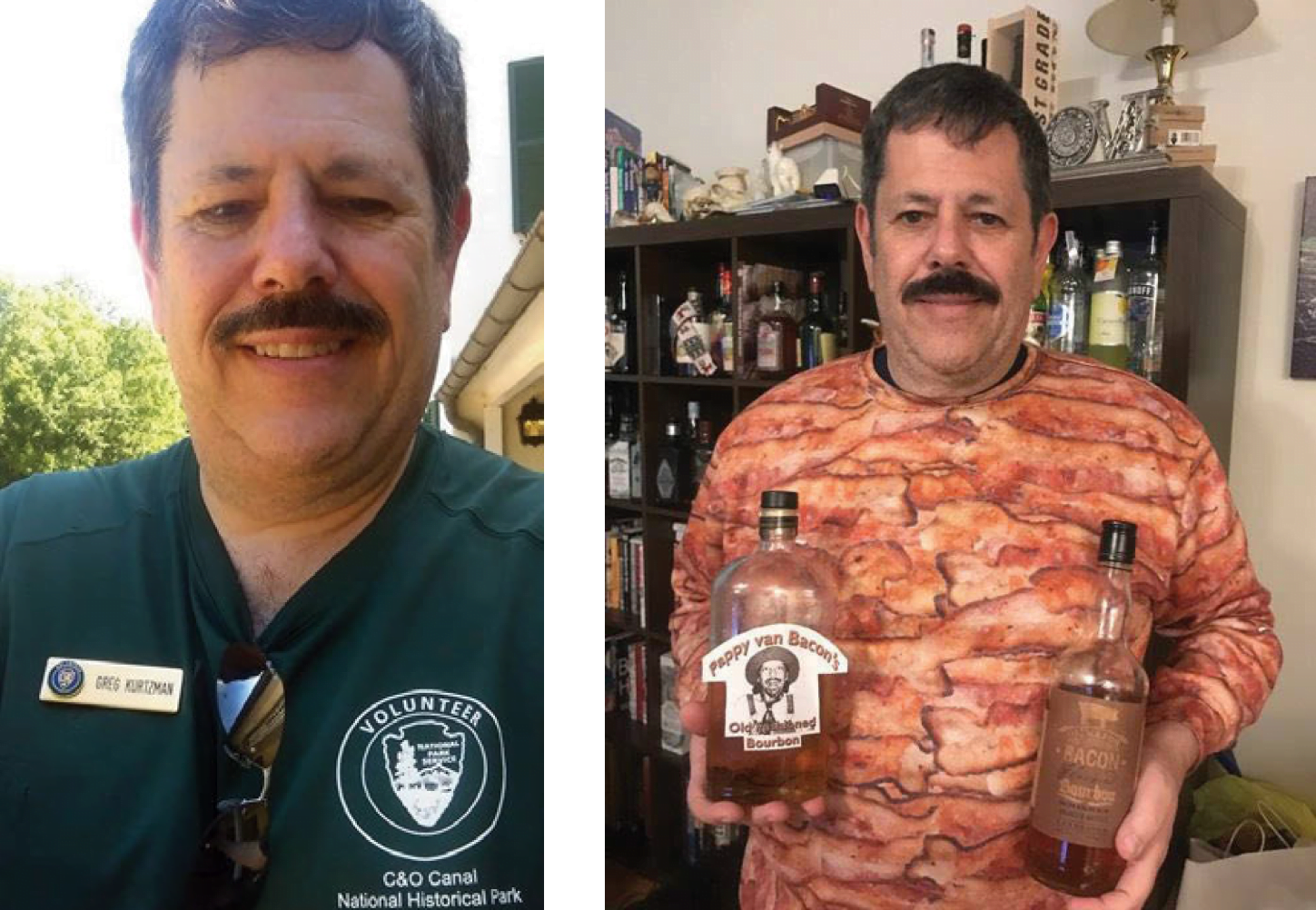 Volunteering at the C&O Canal National Park (left) and Maybe I do have a bacon problem (right)
What are your top tips for maintaining a successful practice?
Never stop educating yourself, keep an open mind to incorporating new materials and advances in your practice, but be careful about jumping on things until they have been tested and proven. It's good to be on the cutting edge, but don't rush to be on the bleeding edge. If you're a specialist, remember your practice is referral-based, and the GP is your bread and butter. Build a good relationship with your GPs so they feel comfortable referring to you, and periodically don't forget to refer new patients back to them. Learn to network as that can build a practice, but ignoring that aspect can kill a practice.
Top favorites

The newer NiTi files, with their greater flexibility and the better preservation of tooth structure they provide.

V-Taper™ 2 rotary files (SS White®)
Dia-X Rotary Files (DiaDent®)
Aurum Pro™ (Meta® Biomed)
EndoSequence® (Brasseler USA®)

Digital radiography, as it allows me to see more, diagnose more, and communicate with my patients and colleagues better. I don't know how I ever practiced using film before; it has been visionary in my practice.
Lasers, as they have changed how I practice in all areas of dentistry; they have been a shining light to my treatment.
My weekly BNI networking meetings and the friendships I have made in the group, helping each other grow our diverse businesses. It has proven that their motto of "Givers Gain" is a life motto.
Facebook and the global communications it has opened for me with friends in the dental field around the world.
Helping people, whether it is patients, visitors at the park, park volunteers, or the random stranger who crosses my path trying to make the world a better, kinder place.
Spending time with my cats, which contrary to popular belief about cats, are very affectionate and playful.
Increasing my culinary foodie experiences, proving there are two types of people in life — those who eat to live, and me, a person who lives to eat.
My girlfriend, who somehow puts up with my sense of humor and my outgoing quirky view of life.
Sharing my offbeat sense of humor with the voices in my head who think I am hilarious.
What advice would you give to budding endodontists?
Learn and understand restorative dentistry because endodontics is a restorative treatment with an endodontic component. If you cannot predictably restore the tooth, it doesn't matter how many canals you can find, instrument, and obturate. Don't always assume that a patient referred in for endodontic treatment had the tooth evaluated for restorability. Preserve as much tooth structure as possible especially in the tooth's cervical area as this is where occlusal load concentrates and is what will make or "break" a tooth in the long term. If you do not think its restorable, or other factors such as cracks or periodontal support issues are present, call the referring doctor and discuss what is present and what's the best treatment for that patient. Communication helps build specialist-referral relationships.
What are your hobbies, and what do you do in your spare time?
Having never been a sports fan (although my hockey-loving girlfriend does drag me to Washington Capitals hockey games from time to time), writing is my hobby and helps me share my experiences and knowledge as well as increase my own. I do enjoy cooking and watching the Food Channel. I started cooking at age 11, having to have dinner ready most nights when my parents got home from work, and I worked as a cook in high school at an Italian restaurant in New York.
Also, I have always volunteered in one form or another since childhood, and during the past 5 years, I have volunteered with my girlfriend at the Chesapeake & Ohio (C&O) Canal National Historical Park at Great Falls with the bike loaner program. Recently, we got tasked with heading up CPR and First Aid Training for the park rangers and volunteers, and we became certified American Heart Association (AHA) instructors. When not at the park or cooking, we enjoy time with our five very affectionate cats: Bear, Cali, Zippy, April, and Wolfie.
Stay Relevant in Endodontics
Sign up for webinar invitations, peer-written articles, and cutting-edge case studies.