Editor's intro: Microsurgical Endodontics combines detailed written information along with innovative augmented reality QR codes that bring videos to your fingertips. This book provides an enriched reading experience.
Augmented reality in microsurgical endodontics: the future of endodontic treatment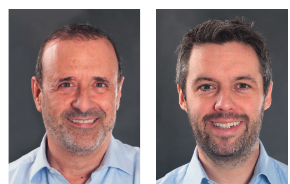 Endodontic specialists Bertrand Khayat, DDS, MSD, and Guillaume Jouanny, DDS, first met in the classroom while Dr. Jouanny was an undergraduate student in Dr. Khayat's class. What began as a mentorship forged over deep commitment to the profession soon blossomed into a decade-long collaboration between the two clinicians, surgeons, and lecturers. Recently, they have combined their knowledge into the textbook Microsurgical Endodontics (Quintessence Publishing, 2019).
"This book is designed to help every practitioner, general dentist, and endodontist to perform endodontic microsurgery," they say. "Every step is described in detail from the anesthesia to the sutures, and special emphasis has been placed on the clinical aspect of the procedure with plentiful illustrations and clinical examples. This book can be used as a reference for simple as well as for more complex indications."
Microsurgical Endodontics brings to light the use of endodontic surgery as a reliable, high-success treatment solution that, until now, has too often been overlooked. Given the breakthroughs in recent years, endodontic surgery has advanced to the point where it rivals conventional practices. In this book, endodontic surgery is finally being appreciated for its effectiveness as a treatment option, especially when conventional retreatment is not ideal.
"Microsurgical endodontics is not an apical resection anymore," the authors explain. "The use of the operating microscope, the evolution of the ultrasonic tip, and new materials allow for a better prognosis. It is now possible to perform endodontic surgeries with a success rate of more than 90%. In the peri-implantitis era, it is obvious that mastering endodontic surgery will be a great asset to save more teeth."
To reinforce the material presented, Microsurgical Endodontics takes QR codes to the next level by incorporating the use of augmented reality, thereby providing readers with an enhanced visual experience. Readers can download an app for iOS or Android that allows them to access videos handpicked by the authors. These supplementary videos bring select images in the book to life by simply hovering a smart device over each image.
"The augmented reality feature is a new step in education," the authors say. "It is now possible to precisely visualize the gestures explained in writing. Different key movements with a blade, an elevator, or an ultrasonic tip are shown in short videos so that the reader better understands how to perform the procedure."
This enriched reading experience is just one part of the authors' vision for the book and the successes in endodontic treatment they anticipate resulting from its use.
"Our goal is that every dentist understands the wide range of indication of endodontic surgery," the authors emphasize. "We hope that students, general dentists, and experienced specialists will find relevant information and that this book will help our colleagues take a step further in endodontics and start to include endodontic microsurgery in their daily practices."
To learn more about Microsurgical Endodontics, visit www.quintpub.com.
Review by Sarah Mondello
While this book will offer augmented reality with videos, this article by Dr. Leandro A.P. Pereira writes about a case that necessitates microsurgery after mechanical preparation.  Click here to read "Microsurgical management for correction of a procedure error in the phase of apical mechanical preparation in endodontics: apical transport." 
Stay Relevant in Endodontics
Sign up for webinar invitations, peer-written articles, and cutting-edge case studies.