Vista Dental's Phasor Recognized as a 2019 Best of Class Technology Award Winner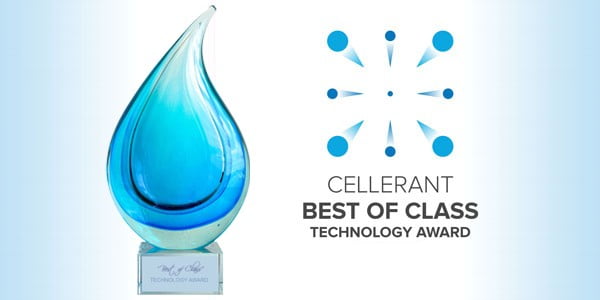 Racine, WI; June 20, 2019 — Vista Dental Products is pleased to announce that the Phasor™ Composite Heating System has been selected as a 2019 Cellerant Best of Class Technology Award recipient. Vista is honored to receive this prestigious award for the first time in company history!
"We are entering a new era in dentistry — one that will change how we diagnose, treat, and manage our patients and practices," said Dr. Lou Shuman, CEO of Cellerant and founder of the Best of Class Technology Awards. "This was a breakthrough year in product and services technologies. The panel spent hundreds of hours in close discussion reviewing and analyzing the corporate landscape. Pay close attention to our winners as they are truly leading the way to provide you what is best in today's contemporary practice."
According to James Onderak, President of Vista Dental Products, "The Cellerant Award is a testament to the time and resources Vista dedicates to advance clinical outcomes through innovation. This affirms that we are succeeding in our mission to positively impact the lives of both patients and clinicians alike."
The 2019 Cellerant Best of Class Technology Award is selected by a panel of the most prominent technology leaders in dentistry: Paul Feuerstein, DMD, technology editor for Dentistry Today, John Flucke, DDS, technology editor for Dental Products Report, Marty Jablow, DMD, known as America's technology coach, Pamela Maragliano-Muniz, DMD, editor-in-chief of Inside Dental Hygiene, Chris Salierno, DDS, editor-in-chief of Dental Economics, and Lou Shuman, DMD, CAGS, founder and creator of the Best of Class Technology Award.
"Vista is thrilled that the Phasor was selected by such a respected panel of industry leaders," said Mark Scheftner, EVP of Sales for Vista Dental Products. "The Vista team works tirelessly to deliver technologies that improve patient care, while promoting efficiency in the dental office."
About Vista Dental Products
Founded in 1997 and headquartered in Racine, Wisconsin, Vista Dental designs, manufactures, packages and distributes more than 300 cataloged items, many of which offer significant clinical advantages. The company is best known for its endodontic irrigating solutions that outperform traditional medicaments, leading to better patient outcomes. More recently, with the introduction of the Phasor composite heating gun and the Valiant curing light, Vista has become a leader in dental material handling technology.
About the Cellerant Best of Class Technology Award
Since the inaugural presentation in 2009, the Best of Class Technology Awards have grown to occupy a unique space in dentistry by creating awareness in the community of manufacturers that are driving the discussion as to how practices will operate now and in the future.
The selection process relies on an expert panel of dentists recognized as thought leaders and educators. It includes Dr. Paul Feuerstein, Dr. John Flucke, Dr. Marty Jablow, Dr. Pamela Maragliano-Muniz, Dr. Chris Salierno, and Dr. Lou Shuman. Over the course of each year, the panel members seek out and conduct research on potentially practice-changing technologies, with deliberations on nominees and final voting taking place in February. Panelists are precluded from voting in any category where they have consulting relationships. The entire selection process is conducted and managed on a not-for-profit basis.
For more information on the Cellerant Best of Class Awards and the 2019 Award Winners, go to cellerantconsulting.com/bestofclass.
About Cellerant Consulting Group
Founded and led by CEO Dr. Lou Shuman, DMD, CAGS, Cellerant provides strategic dental market insights, clinical expertise, implementation resources and support to accelerate growth for client dental companies. Cellerant services include new concept incubation, clinical product evaluation, product development, continuing education program development and CE sponsorship, strategic branding and marketing, online marketing, content marketing and dental media relations management. As an orthodontist and former owner of a 10-doctor multi-specialty private group practice, Dr. Shuman guides clients to offer products that engage dental customers and provide sustained differentiation. Cellerant operates under a unique model that merges leading voices in clinical product evaluation and strategic partner companies to provide a menu of services from one easily accessible network.
Press Contact for Cellerant:
Lauren Burns Krzyzostaniak
Executive Consultant
Cellerant Consulting Group
Phone: 800-884-5707 x107
lauren@cellerantconsulting.com
www.cellerantconsulting.com
Contact:
Nicole Chartier
Associate Product Manager
Phone: 262-631-5302
Nchartier@vista-dental.com
Stay Relevant in Endodontics
Sign up for webinar invitations, peer-written articles, and cutting-edge case studies.