The newest well-established digital dental company
With more than 120 years of oral healthcare experience, Carestream Dental is built on the shoulders of industry giants such as Eastman Kodak, Trophy Radiologie, and PracticeWorks. Recent changes to the company's structure make it more nimble and even more capable of responding to the unique needs of oral healthcare professionals. As a new freestanding digital company focused solely on oral health, Carestream Dental continues to develop imaging systems and software designed specifically for specialists, such as endodontists, to facilitate treatment planning and improve patient care.
History of Carestream Dental
It's a unique dichotomy: To be more than 120 years old and also be in its first year as a freestanding company. In 1896, Eastman Kodak introduced the first photographic paper designed specifically for dental X-rays. Later, as technology improved and became more digitalized, Trophy Radiologie filed a patent for the world's first digital intraoral sensor in 1983. The technology earned Trophy the reputation as the world's leader in dental digital radiography.
"I don't think anyone then could have predicted the accelerated growth of 2D and 3D imaging once digital radiography entered the field, but even then I remember feeling the digital sensor was a game-changer," said Ed Shellard, DMD, chief dental officer, Carestream Dental, who had a practice in Rochester, New York.
In 2000, PracticeWorks emerged as a dominant dental software company when it acquired several other software companies, before going on to acquire Trophy Radiologie in 2002. The following year, it was purchased by Eastman Kodak, which was looking to expand its presence in the dental business. The company built the industry's leading portfolio of film, digital imaging systems, and practice management software. Then, in 2007, Kodak's Health Group was purchased and renamed Carestream Health; at this point in Carestream Dental's history, the company was known as "PracticeWorks Systems, LLC, the exclusive manufacturer of Kodak Dental Systems." In 2010, the Carestream Dental brand was born, and 7 years of rapid technological expansion later, Carestream Dental became an independent digital dental business focused specifically on oral healthcare solutions and services.
Transforming dentistry. Simplifying technology. Changing lives.
While Carestream Dental wouldn't be the company it is today without its proud heritage, it's more excited about what the future holds. To reflect its status as an independent entity, Carestream Dental adopted a new mission: Transforming Dentistry. Simplifying Technology. Changing Lives. These are concepts that the company has embraced for years, but with more freedom to focus exclusively on the oral healthcare industry, these ideas can be further expanded upon.
Transforming dentistry
Just take a look at Carestream Dental's legacy, and it's clear how the company has transformed, and is continuing to transform, dentistry. From film and chemicals to the most advanced cone beam computed tomography equipment, Carestream Dental has played a role in some of the most significant transformations in the endodontic industry. Take, for example, the first Trophy sensor patented in the early 1980s. More than 35 years and 200,000 sensors later, the technology has evolved into the sleek, efficient RVG 6200 sensor that many endodontists count on today.
Simplifying technology
But it's not enough to simply supply specialists with flashy equipment; the technology behind it must be user-friendly, easy to integrate, and complemented by intuitive software and modules. By developing imaging solutions that can be quickly utilized by practitioners — and easily integrated with leading third-party endodontic practice management software, such as TDO, PBS, and EndoVision — users can eliminate time that would have been spent troubleshooting problems and instead focus on patients. Meanwhile, constant improvements to software make clinicians more efficient and help them expand their diagnostic capabilities.
Changing lives
Patients are an integral part of every endodontic practice, so last, but not least, Carestream Dental's ultimate goal is to deliver equipment, software, and services that are going to change the lives of clinicians, their staff, and — ultimately — patients. That means safer exams, more precise diagnoses, and faster treatment.
Technology developed with specialists in mind
Carestream Dental would not be able to fulfill its mission without working closely with specialists. As one of the only oral healthcare companies that develops, manufactures, and supports its own imaging systems and software, Carestream Dental is in the unique position to work closely with technology users and solicit their insight and feedback. Endodontists play a key role in shaping the future direction of the company's technology.
Innovative products to facilitate endodontic treatment planning
Endodontists require high-resolution images to evaluate the morphology of the dental pulp and view the most intricate details of canals — something that Carestream Dental consistently delivers. The following is just a sample of the imaging products Carestream Dental has designed to meet the specific needs of endodontic practices:
CS 8100 3D System
The CS 8100 3D was designed with the specific needs of endodontists in mind. For diagnostic and treatment planning, HD mode (5 cm x 5 cm) captures the finest details of root and canal morphology with no additional dose to the patient above the standard 5 cm x 5 cm exam. The CS 8100 3D is compact enough to fit in any space; as more and more endodontists embrace CBCT, it's easy to incorporate the system into their practice and workflow. Today, there have been more than 15,000 systems from the CS 8100 family installed all over the world.
CS 3D Imaging Software
Included with Carestream Dental's CBCT imaging units, CS 3D Imaging Software allows practitioners to view images slice by slice in axial, coronal, sagittal, cross-sectional, and oblique views to support diagnostic efficiency and interpretation. Constant enhancements to the software keep endodontists practicing at their best and deliver timely and efficient workflows. For example, 3D initial reconstruction times are now faster. Also, a new full-function "preview" mode lets clinicians open scans in a few seconds while the full data set is being loaded. A recent update to the preset exposure parameters for 3D programs has also enhanced image quality.
RVG 6200 Sensor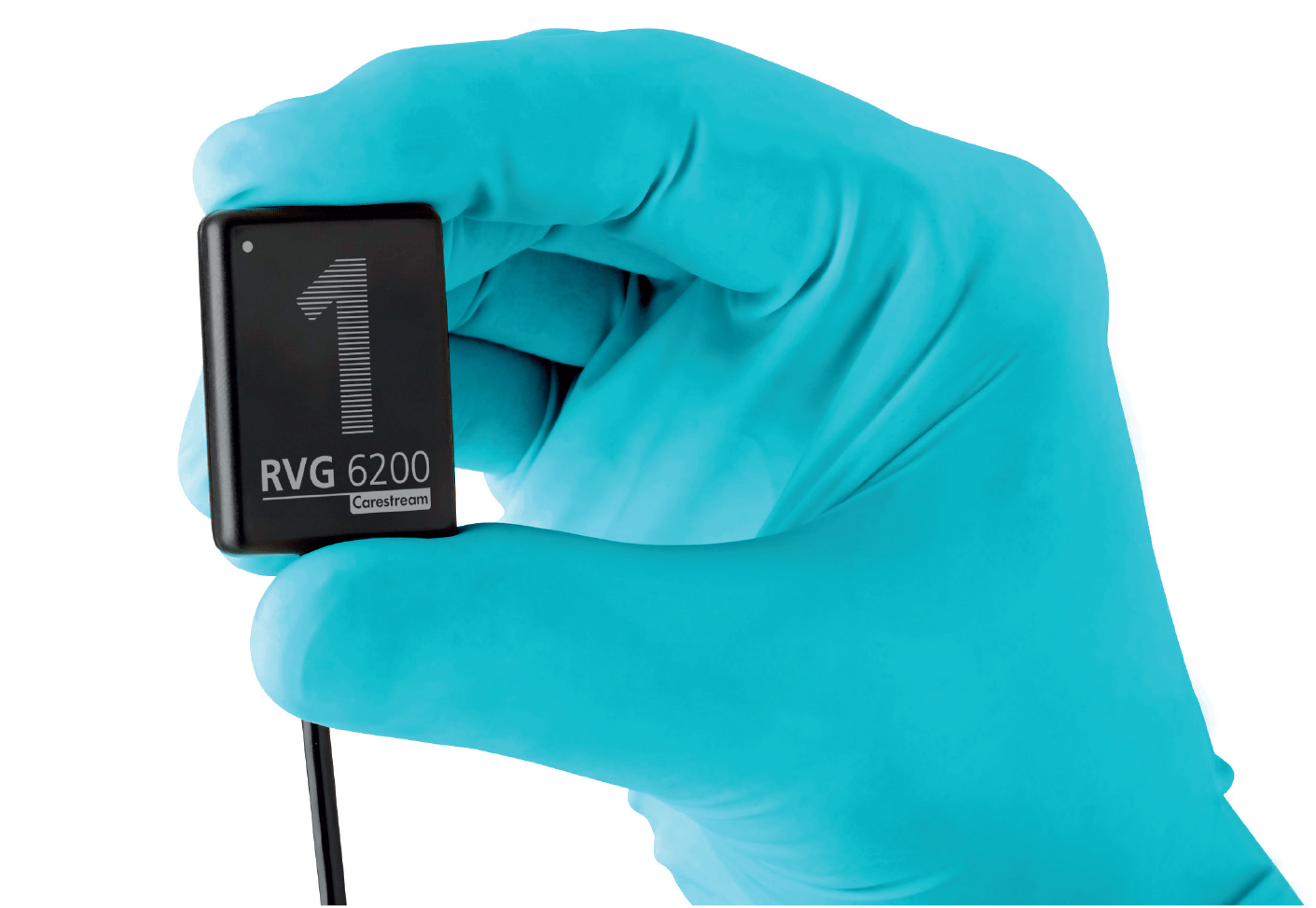 RVG 6200
The RVG 6200 continues the legacy of innovative digital sensors by shaping technology around endodontists and their preferred workflow. With a simple three-step acquisition process — position, expose, and view — digital images are available faster, so doctors go from capturing radiographs to diagnosing more efficiently. Additionally, the RVG 6200's tough, durable cord has been reinforced to withstand the wear and tear of a busy endodontic office. Also, the CS Adapt module allows doctors to adapt images to their preferred look and feel. The module includes many filter presets, but 12 are specifically dedicated to endodontics. Of course, the clinicians still have the freedom and range to fine-tune images to meet their exacting clinical requirements.
Comprehensive education
With the rapid expansion of technology in the field of endodontics, it's vital that specialists keep up with the latest techniques and equipment. Learning the ins and outs of a CBCT system's capabilities or imaging software's functionality aids in advanced diagnoses while giving doctors a competitive edge over other practices that don't embrace the same technology. Plus, when doctors extend training to their entire team, from the operatory to the front office, they encourage more cohesive teamwork. Finally, for endodontists looking to take on more advanced cases, offer additional treatment options, work closer with referrals, or even partner with other specialists in a multi-disciplinary practice, educating themselves on all the capabilities of their advanced technology is a tremendous benefit.
With that in mind, Carestream Dental makes it a priority to offer doctors comprehensive educational opportunities across a variety of media. In addition to the in-depth training options available to its customers, Carestream Dental also offers free training videos available at any time (for both clients and referring offices) at carestreamdental.com/learn3d, in addition to multiple free monthly webinars. Hands-on training is provided throughout the year at different locations around the country, and Carestream Dental also partners with endodontic training programs, leading endodontic specialists and the AAE to sponsor in-depth interactive courses and workshops.
What's next?
These are exciting times for Carestream Dental, especially when it comes to the pace at which technology is advancing. The company has just evolved into a new dental digital technology business, but it's hardly "new" to the industry. Carestream Dental is continuing to provide the service and innovation that endodontists have come to expect, while simultaneously pushing the envelope of innovation.
"Our years of experience mean we understand and acknowledge what modern endodontics is all about," said Jordan Reiss, endodontic and 3D imaging sales director, Carestream Dental. "As we focus on the not-too-distant future, we'll pull from that experience as well as rely in the insight of doctors so we can provide endodontists with what they're asking for today, in addition to new innovations in the future that they never knew they needed."
To learn more about Carestream Dental's portfolio of imaging products and software for endodontic practices, please call 800-944-6365, or visit carestreamdental.com today.
This information was provided by Carestream Dental.
Stay Relevant in Endodontics
Join our email list for bonus content and free CE courses and webinars.