A partnership model that invests in the programs, people, and processes that help dentists grow

Affliliate partners map
The dental industry, much like any other industry, is continuously growing and evolving. From technology and medical advancements to trends in practice management — this is an exciting time to be part of the field. Doctors have access to a variety of ways to practice, tools to use, and environments in which to establish their careers. For those who are interested in having added resources and administrative support — but value the traditional patient relationships associated with private practice — American Dental Partners presents a unique option where they can achieve both.
A new kind of partnership
American Dental Partners, Inc., (ADPI) was established in 1995 with a mission to elevate the practice, profession, and delivery of oral healthcare. ADPI does this through a unique partnership model that gives local, community-based group practices the ability to thrive while keeping up with today's patient demands and business best practices. Today, ADPI is partnered with 22 affiliated group practices in more than 280 locations across the United States.
When it comes to branding and patient marketing, American Dental Partners invests in the local practice brand and the doctors themselves rather than the American Dental Partners brand. This allows the group to maintain its connection to the local community, while doctors can tap into a national network of colleagues within the ADPI family. Most affiliates have more than 20 years of history in their community before they partner with ADPI. Under this model, there are clear lines that define what the P.C. Group/Doctor Owner governs (patient care, treatment planning, patient records, doctor contracts, etc.) and what ADPI manages (facilities, employee benefits, patient marketing, continuing education, etc.).
This partnership path is advantageous to both parties involved. It enables doctors to truly focus on meeting the needs and preferences of their patients, while gaining greater access to profit sharing, ownership, and a true business partner to help their practices grow.

Doctors collaborate to develop treatment plans that are in the best interest of their patient
Helping specialists thrive
Belonging to an American Dental Partners supported practice is particularly beneficial to specialists. Endodontists, oral surgeons, periodontists, and orthodontists can enjoy a steady patient demand that is mainly generated through internal doctor referrals. Tools such as shared electronic medical records (EMR), proprietary practice management software, and consistency in provider enrollment create an environment where collaboration between doctors is as effortless as possible.
Specialists also benefit from having a home operatory with no required travel. Endodontists have a designated operatory that includes all necessary materials, including a microscope, so they can work as comfortably as possible. Taking away the need for excessive travel or the burden of lugging your own equipment helps to reduce burnout and stress and makes it easier for doctors to maintain a healthy work-life balance.
Patients benefit from this model as well. They can easily receive the care they need from a team of professionals who are well aligned and aware of each patient's unique needs, preferences, and goals. Doctors who maintain this healthy balance and are provided with opportunities to develop their skills will be empowered to deliver better care to patients and form rewarding relationships with their community.

Proprietary software and shared EMR being used at Metro Dentalcare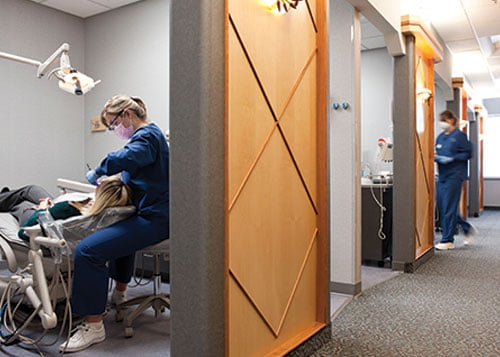 Modern, inviting practice spaces at Metro Dentalcare
Committed to quality
In an effort to help its affiliates go above and beyond the typical protocols on safety and quality, American Dental Partners has provided more than 60% of its practices with the needed resources to successfully achieve Accreditation Association for Ambulatory Health Care (AAAHC) Accreditation. This prestigious recognition means that the AAAHC and its independent team of health care professionals have found that these practices meet their rigorous, nationally recognized standards for health care services in areas such as infection prevention and control, quality management and improvement, risk management, and environmental safety.
Continuous growth
Efforts designed to promote collaboration and improve the patient experience aren't limited to taking place within the practice walls. ADPI has established several leadership and professional development programs that help participants work together to provide excellent service to patients while learning valuable personal and professional skillsets. The program is open to anyone who comes in regular contact with patients including doctors, practice managers, dental assistants, and scheduling managers. Topics covered include emotional intelligence, customer service, communication, and team leadership.
With American Dental Partners, growth can be found around every corner. Whether it's a dental hygienist who worked her way up to becoming a Director of Operations, or the group practice that started with just three locations and grew to more than 30 — each practice, each doctor owner, and each person has his/her own journey and story. Preserving these stories, and partnering with their people are what the team at American Dental Partners focuses on above all else.
Grow with us
Whether it's a new practice location or an increase in patient demand — opportunities across the country are being added and updated on a daily basis. We're continuously investing in the programs, people, and processes that will empower team members, and ultimately deliver better care to the patients and communities we are privileged to serve.
If you think it's time someone invested in you, give us a call at 781-224-0880 or email DoctorTalent@amdpi.com. Our Talent Acquisition team is ready to find the opportunity and practice environment that will help you achieve the lasting career you've been striving for.
This information was provided by American Dental Partners, Inc.
Stay Relevant in Endodontics
Join our email list for bonus content and free CE courses and webinars.