Editor's intro: Sharing information about dental learning is Dr. S. Ryan Facer's true calling. Read about his challenges and triumphs in this issue's educator profile.
Dental Learning Live platform
What can you tell us about your background?
I grew up roaming the mountains of Bountiful, Utah — mountain biking, snowboarding, wakeboarding, and rock climbing. I never really wanted to grow up, but eventually reality set in, and responsibility took over. It was time to get serious and focus on a career. It's kind of a funny story on how I got serious about my education, and why I decided to go into dentistry. Let's just say it all started with a girl and some friendly competition.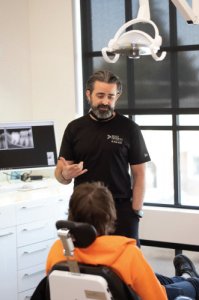 I went on to graduate from the University of Utah with a degree in medical biology and attended the University of Iowa College of Dentistry. I graduated with high distinction and continued thereafter, specializing in endodontics. I have been published in peer-reviewed journals such as the Journal of Endodontics and the Journal of Dental Research. My research interests range from sealer coverage, bacteriophage therapy, roentgen therapy, and adult stem cells with an emphasis on bone biology and dental trauma.
What originally attracted you to the specialty of endodontics?
While in dental school, I had a natural affinity and attraction to microbiology, anatomy, and physiology. Endodontics offered me a unique understanding and perspective that incorporates these sciences, which is somewhat unique to endodontics and pulp tissue. For me, the prospect of restoring a tooth back to health or giving a tooth a second chance is very appealing and pure. I needed to find a way to incorporate basic sciences into dentistry, and I needed to find a way to use these skills in the way I practice dentistry. I have always looked at teeth differently as plants, not rocks. Rocks can be chipped away and ground down with little consequences, whereas if you over prune a plant it's the complete opposite, just like teeth.

What aspect of your training inspired you to add educator to your list of accomplishments?
I think all of us have had special educators in our lives who have inspired us. My mother was an elementary schoolteacher; she inspired me. I have three sisters, and all are teachers. I grew up around teaching and learning. A joke around my office is that my patients are going to get educated, whether they like it or not. Frankly, I've learned after 15 years of practice, that it pays dividends to educate my patients upfront. The same goes for continuing education. When we take the time to actually learn upfront, then we won't be making excuses for inabilities in arrears. I think that was the reason I wanted to become an educator. When I struggled, whether I learned the solution myself or took inspiration from another, the outcome was very satisfying. This inspired me to dream up an education platform and diversify my practice with something we call Dental Learning Live. Dental Learning Live is a platform for dentists to learn all aspects of dentistry, not just endodontics. So to get it started, we kicked it off with advanced endodontic techniques.
What are your proudest moments in the clinical and teaching aspects of your life?
Honestly, it is the interests that my staff have taken to it. They work feverishly to see the educational projects, videos, and classes  come to fruition. We all love having guest speakers, other dentists, and endodontists attend and inspire us all to do more, to do better, and to keep true to the calling of taking better care of patients. To see the Dental Learning Live catch on and stand upon its own has just been wonderful.
What do you think is unique about the topics you teach?
I think what's unique is the perspectives that we try to bring. Everything is real; nothing is staged. This includes imperfections and unique perspectives that come from complex cases. The learning environment offers everyone to have a fresh set of eyes or a beginner's mindset. It is this open-mindedness and diverse perspectives from others that makes the Dental Learning Live platform so powerful.
To learn a new skills and to try to better oneself creates a contagious environment. The reality is no one person has all the answers. Collectively, we can become greater together.
As an educator, what have you learned from your clinical students?
Great question! Actually, that is the best question that has been asked! Yes, I have learned a great deal from my students. How can you not learn from others, when we are all tasked with the same challenges at hand. We all are trying our very best to successfully take care of our patients.
What has been your biggest challenge in sharing information and educating endodontists?
Well, the biggest challenge brings us back to the reason why I created the Dental Learning Live platform. It's hard for people's schedules to align along with the time and resources to travel and collaborate. To be able to create this environment remotely is something that I was passionate about. We are constructing a platform that will align all of us and bring us together. We have to always be improving. We need constant inspiration and nudging forward, or we will suffocate in the status quo. Can you imagine how powerful a common and purposeful platform can be? One that will create a community that is very meaningful.
What advice would you give to budding endodontists?
Look at teeth as people and not people as teeth. Treat needs and not benefits. Always keep an open mind; you never know what innovations the future holds.
What is the future of endodontics?
The future of endodontics to me falls within the realm of reversible pulpitis in teeth. How great would it be to actually prevent the disease? Why can't we chase down the causative etiology and stop the progression of a disease?
Sometimes I feel like we are playing horseshoes and hand grenades — where close enough is good enough. Meaning we allow bacteria to cause irreversible damage or necrosis to the pulp which leads to root canals or extractions. Why is it that way? Why do we feel drilling and filling is all dentistry can do? The future of dentistry lies in the eradication of the causative insults — namely, bacteria. We need to learn how to keep pulp tissue alive and well and intervene along the pathogenesis of the disease process instead of letting the disease process take over.
This would necessitate and incorporate novel diagnosis, early microbial detection, and novel strategies to eradicate bacteria from enamel, dentin, and pulp tissue. Until we have novel ways of controlling bacteria, dental caries will also continue to be treated in a fashion similar to root canal treatments, through gross destruction of tooth structures.
So again why is that so? If bacteria can get inside the tooth, why can't we? Why can't we hunt bacteria down through the same pathways upon which they encroached the tooth and pulp in the first place? The future should turn preventive maintenance inside out. Current preventive efforts include fluoride, flossing, and toothbrushing, yet these should never be considered good enough. In fact, the great Dr. Charles Horace Mayo, founder of the Mayo Clinic, made this profound statement: "The next great step in prevention should be made by dentists. The question is will they do it?" There is, without a doubt, a new frontier in regards to microbe hunting and preventive care yet to be discovered and has been so ever since Dr. Mayo made that statement to dental thought leaders in Chicago in 1913.
What would you have become, had you not become a dentist?
I would have been a medical doctor specializing in research. I have a love for biology, physiology, and discovery of applications that can make a difference in a patient's life. I love looking into the past to gain insight into solving problems of the future. I'm more interested in what can be done than what is being done. It is hard to be satisfied with this mindset, but it certainly gives you a drive to push the boundaries.
What are your hobbies, and what do you do in your spare time?
Spending time with my kids
Training and exercise
Pilates and yoga
Running, biking, snowboarding, boating, and wakesurfing
Traveling and exploring wondrous destinations
Humanitarian service missions
Fly-fishing and losing myself to river time
Reading biographies, nonfiction, and history books
Attending Utah Jazz games
Now that you are aware of Dr. Facer's focus on dental learning, watch his webinar co-hosted by Dr. Steven Frost, "What Matters When Evaluating New Technology for Your Endodontic Practice."
https://endopracticeus.com/webinar/webinar-endodontic-technology/.
Stay Relevant in Endodontics
Sign up for webinar invitations, peer-written articles, and cutting-edge case studies.