Editor's intro: This article by Albert (Ace) Goerig shows how retiring in practice lets you understand the secret to happiness and a less stressful life.
Dr. Albert (Ace) Goerig discusses the "Ace Process"
In our culture, retirement has acquired somewhat of a negative connotation, suggesting old age, "too old to work," or a reward for working hard for 40 years. I do not buy into this old concept of retirement. By my definition, retirement is a time of many choices, opportunities, and excitement. We can always make more money, but we can never make more time in our life.
Why work hard all your life and wait until you're in your 60s before you have true freedom and choices in your life? I believe you can begin your retirement when you're young, using the concept of "retire in practice." This happens when you become debt-free, which allows you to have unlimited choices in your life. It can begin in your 30s as an owner of an endodontic practice, or even as an associate.
I have coached many endodontists who became debt-free within 2 to 3 years, and some became debt-free in their 30s. They subsequently brought in an associate, allowing them to work 130 days a year. Now they have the time to spend with their family when they are young and can create real relationships with their children and spouse. They also have more time to travel, teach, learn or enjoy their hobbies, or work on their bucket list. What message are you sending to your children about how to live life? Give them the example of what real retirement (choices) looks like throughout life.
Most dentists see vacation and time off as a reward for working hard, but I see vacations as a time of rejuvenation and creativity. It is amazing how creative you can be in developing new ideas to improve your relationships, your life, your practice and how to maximize your productivity when you are sitting on the beach in Maui.
After graduating, most associates work in a corporate, or average, endodontic practice 4 to 5 days a week, with only a few weeks of vacation per year, and they only earn between $150k to $300k per year. In an Endo Mastery-coached practice, an associate usually starts off around $300,000 per year, and he/she learns to become very efficient in a fun, patient-oriented, drama-free environment.
Many endodontists come to Endo Mastery asking for help to successfully integrate an associate into their practice. We implement systems to help increase the associate's efficiency over time, so they can eventually earn $400k to $700k per year, while working 3 or 4 days a week, and while enjoying 8 to 10 vacation weeks off a year. This is how an associate can also "retire in practice."
In 1992, I created a practice model of working about 120 days a year and taking a week off each month. This was made possible by having an associate work with me in my practice. I initially called this the "retire in practice" model, but many of my clients started calling it the "Ace Process."
It begins with a beautiful vision, the right systems, scheduling, a good team, efficient techniques, and marketing. With the increased profitability, most endodontists can be completely debt-free within 2 to 3 years, even if saddled with $2 million in debt.
Once the practice reaches $1.4 million, you can bring in an associate. This allows you to work 3 days a week, with your associate working 3 or 4 days, thus making sure the office is always open 5 days a week. Most of my associates take home $600,000 to $750,000 per year working 3 to 4 days a week.
The average endodontist collects around $750,000 a year and takes home $250,000 to $450,000 a year, working 4 to 5 days a week. The goal with our Endo Mastery clients is to have them reach $1.4 million in collections and find a long-term associate who is not interested in ownership. They must be compatible and have the same treatment philosophy.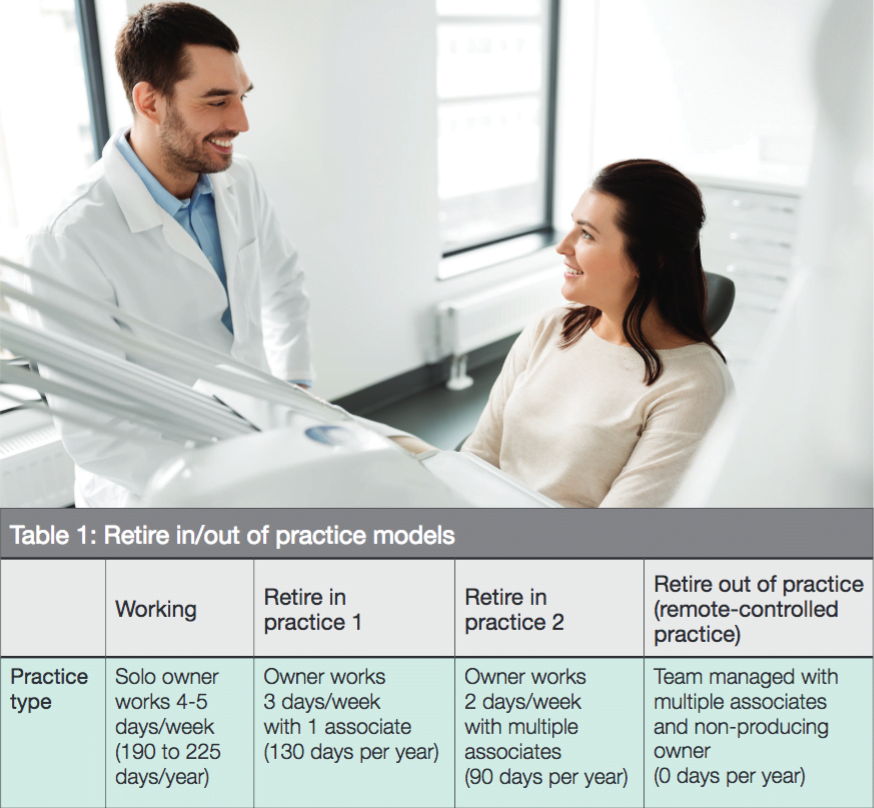 Earning less than $1.4 million causes a significant reduction in the owner's income, resulting in inadequate revenue to pay an associate doctor. Many doctors can increase their collections to $1.4 million in 1 year but may require up to 2 to 4 years of coaching
When you work fewer days, you are more refreshed, perform higher quality treatment, and enjoy the practice more. You create an empowered team that runs the practice even when you're not there, which still remains under your complete control. We also help reprogram negative beliefs, such as needing to work hard for a living or, in some way, having to take a difficult path to earn it. These are just negative imprints and encoding from your family and life history. As you grow into the "Ace Process," you will understand the secret of happiness and loving life.
If you only work 2 or 3 days a week, why completely retire at all? With an incredible, empowered team, the practice runs on its own and provides an ideal patient experience through loyal associateships and motivated team members. The question is, why ever sell your practice? Without needing to work in the practice, you will continue to have a constant source of income, which keeps up with inflation and gives you total freedom and plenty of abundance to share with people in need. Table 1 shows the "retire in and out practice" model.
To fully embrace how to develop your "Freedom Now" plan, go to EndoMastery.com and check out Dr. Ace Goerig's new book, Dr. Ace's Financial Freedom Blueprint: 7 Secrets of Creating Personal and Financial Freedom for Endodontists.
To see a DocTalk Dental video of Dr. Goerig discussing retiring in practice and the "Ace Process," visit this link.