The Manta handpiece is light with customization capability and other features designed for various stages of a root canal procedure.
Achieve your optimal freedom with the SS White Dental® Manta™ Cordless Endo-dontic Handpiece. The Manta is as incredible as it is compact. At an ultralight weight of just 1.2 ounces, the Manta handpiece has the power you need in a small, ergonomic body that will reduce hand fatigue while fitting comfortably in your pocket.
Each Manta handpiece uses a precision processing technology to minimize vibration and features a mini-angle head for the optimal line-of-sight for procedures. You will enjoy all the options and speed necessary to begin treatment or complete retreatment — featuring an easy-read LCD display screen, speed, and torque controls, five memory programs, and full auto-stop and auto-reverse,
The Manta Cordless Endodontic Handpiece operates the file at 100-600 rpm with a standard gear ratio of 20:1. That's a lot of power in a tiny package! The 8.5-hour battery life on a lightning-fast charge of just 140 minutes means that the Manta will be with you all day, operating at maximum efficiency and performance.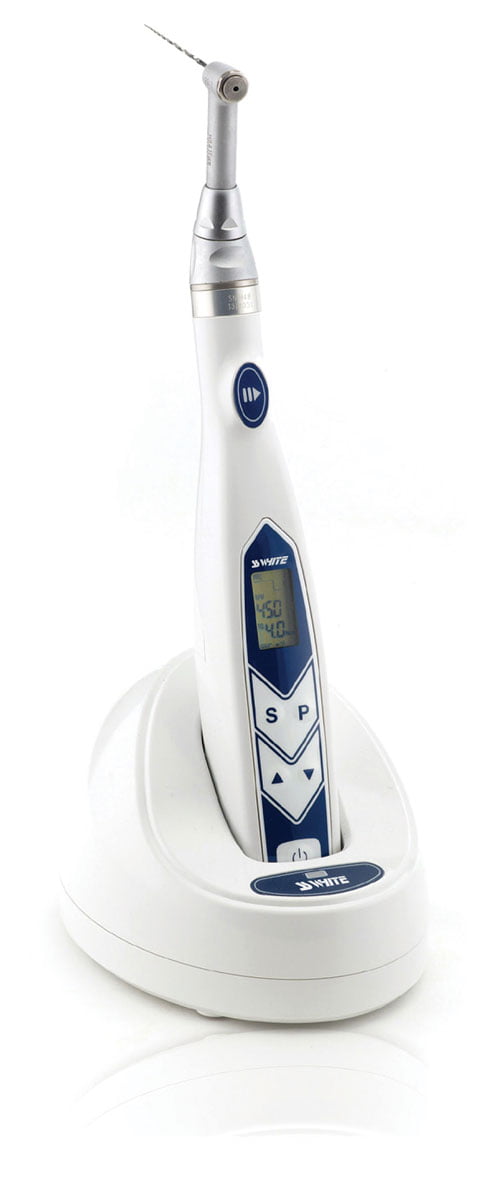 The most fascinating aspect of the Manta is that it's one of the lightest endodontic handpieces available today. At roughly the same weight as a slice of sandwich bread, you no longer have to accept hand-and-wrist pain as "part of the job." The Manta allows practitioners to shape and clean the canal in a smooth, flowing motion more efficiently. The cordless Manta handpiece gives you full 360-degree rotation, and at such a minimal weight, you can keep your wrist position neutral and comfortable. With so much power, comfort, and options, the Manta is the ideal companion for today's busy dental practices.
The Manta works efficiently with most major brands of NiTi files. DCTaperH files are an excellent choice for conservative coronal shaping. DCTaperH files mirror the natural shape of the root in a variable "V" decreasing rate of taper from tip to shaft. Endodontists report using only one or two files per case, saving money on the cost of shaping per procedure. With our proprietary heat treatment process, file flexibility allows for the successful navigation of the curviest of curves in any canal you treat with no ledging or transportation.
The Exact Family (ExactTaper™, ExactFlow™, and Exact Guide™) rotary files are engineered to make the transition from glide path to shaping a seamless procedure while reducing the potential for over preparation. The Exact line files are available in the same sizes and lengths of comparable file systems, requiring no change to your current protocol or technique, so you get predictable results every time.
The Manta Endodontic Cordless Handpiece includes five valuable preset programs, and auto-reverse features three working modes — auto-reverse on, auto-stop, auto-reverse — for giving you full control to keep your patients safe and comfortable. If too much pressure is applied while operating the unit, it will automatically reverse. This function minimizes the risk of breakage in even the most complex cases. Each handpiece has the look and design of an electric toothbrush. Patients find the design less threatening, greatly improving their experience and outcome. Plus, the electric motor is extremely quiet, which has a mutual benefit to you and your patient.
The Manta is ideal for practitioners of all experience levels. Each preset program mode is perfect for the various stages of a root canal procedure. As you use the unit, you will become more accustomed to operation and can create custom settings and programs for ultimate personalization. Whether you're a general dentist or an endodontist, Manta is the cordless handpiece you need at a price you won't believe!
This information was provided by SS White Dental®.
Stay Relevant in Endodontics
Sign up for webinar invitations, peer-written articles, and cutting-edge case studies.