Endodontic Practice Webinar
Surgical Operating Microscope and Cone Beam CT
Webinar AGD Code: 550 | Webinar CE Credits:1 | Webinar Duration:1 Hour
Webinar Live Date: | Webinar Expiration Date:
Presented by: Dr. Aleksander Iofin
Free Informational Webinar
Webinar: Surgical Operating Microscope and Cone Beam CT
Since the 1990's the field of Endodontics has seen multiple innovations that radically changed the way we plan and perform both non-surgical and surgical Endodontic procedures. Arguably, the two most significant developments have been the acceptance of the surgical operating microscope as a cornerstone of the Endodontic practice, as well as the more recent introduction of the dental Cone Beam CT technology. The two go hand in hand and simply complete each other.
We will review the basic principles and applications of surgical operating microscope and Cone Beam CT. We will also look at interesting and challenging cases that likely would not have been successful without the advent of these two technologies.
OBJECTIVES
At the conclusion, participants should be able to
Understand the advantages of using an operating surgical microscope in Endodontic practice

Describe the principles of CBCT technology and situations where its use is most advantageous

Apply the demonstrated techniques using both technologies in order to maximize success rate in non-surgical and surgical endodontic treatment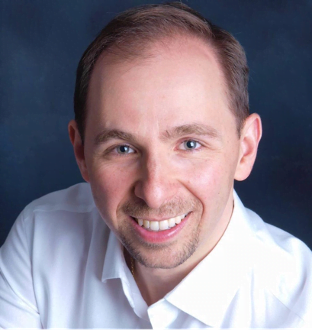 Dr. Aleksander Iofin practices endodontics full-time at Rockefeller center in New York City and teaches part-time as an Assistant Clinical Professor of the Department of Endodontics at Columbia University College of Dental Medicine and Adjunct Assistant Professor at the School of Dental Medicine, University of Pennsylvania. He was recognized by the Dean of the Columbia University College of Dental Medicine for his dedicated service for the past 10 years.
Dr. Iofin graduated from Rutgers University with highest honors and received his dental degree from Harvard School of Dental Medicine with honors for his graduation thesis. His endodontic specialty training was completed at the Department of Endodontics at New York University College of Dentistry.
Currently, Dr. Iofin is a Board-eligible member of the American Association of Endodontists. In addition to teaching at Columbia University, Department of Endodontics, he also has lectured on modern endodontic techniques using the microscope and microendodontic instrumentation at the Greater New York Dental Meeting, the New York County Dental Society, the Rockefeller Study Club as well as other dental clubs in the New York area.
Dr. Iofin serves as President of the New York State Association of Endodontists.
He is also a former member of the Board of Directors of the NY County Dental Society.
For over 160 years, ZEISS has been developing optical instruments that set groundbreaking standards around the world. ZEISS remains a worldwide leader in optical visualization solutions for dental applications and offers a full line of optical systems, including EyeMag® Loupes, OPMI® pico, PROergo® and EXTARO® 300 Dental Microscopes.