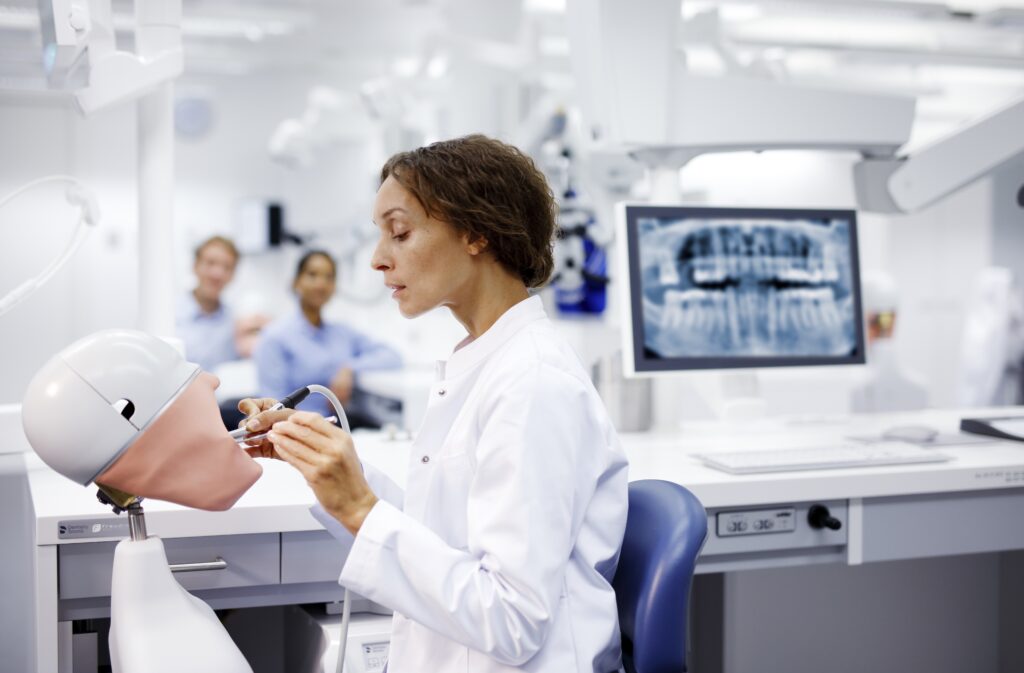 Dentsply Sirona's new On-Demand Endodontics Curriculum is designed to build and expand clinicians' skills through selfpaced, user-friendly, interactive online learning. The new endodontics continuing education (CE) courses, now available through the DS Academy, cover diagnosis and the entire endodontic therapy workflow, from fundamental to mastery topics.
Charlotte, March 7, 2023. The new Endodontics Curriculum provides dentists with the knowledge, skills, and inspiration they need to stay up to date with tuition-free interactive, user-friendly online CE courses. Developed in collaboration with world-renowned clinicians and instructional designers, the comprehensive curriculum showcases current endodontic techniques and procedures.
Participants can start with the curriculum at the level that best suits their clinical experience and interests. It is self-paced and interactive, meaning that courses can be taken at the clinician's convenience, anytime, anywhere.
"The rapid advances in technology across all the disciplines of dental health care have made it even more essential for clinicians to be committed to life-long learning", says Mark A. Latta, DMD, MS, Professor of General Dentistry at Creighton University, Omaha, USA. "While there are numerous opportunities for on-demand virtual courses, finding high-quality evidenced-based education can be a challenge. Driven by a cadre of global experts, the Dentsply Sirona curriculum will provide each learner immediate benefits for the care of their patients, regardless of where they are on their educational journey."
The new endodontics curriculum is focused on the entire workflow and is grouped into three learning tracks – Foundational, ProcedureBased, and Mastery. Those new to endodontics should start their learning journey with the foundational learning track which includes four courses concentrating on an introduction to endodontics, including diagnosis. Those with more experience can jump further down the learning pathway to the intermediate, procedure-based level.
The three courses of this track primarily discuss endodontic therapy and the factors influencing treatment outcomes. Finally, the mastery courses are ideal for experienced clinicians interested in further refining or expanding their existing skills. The three courses of this advanced level discuss non-surgical retreatment, the management of perforations, and the open apex.
"We are committed to providing high-quality continuing education through our Dentsply Sirona Academy. Our goal is to help dental professionals overcome common challenges and bring out the best in them so they can confidently provide the best possible care for their patients" says Pamela Marklew, Vice President Global Clinical Education at Dentsply Sirona.
DS Academy On-Demand Curricula – An individual learning journey to expand dental skills and advance with confidence Dentsply Sirona has been offering high-quality clinical education on
www.dentsplysirona.com/academy for many years. This new interactive curriculum, together with the implants curriculum launched in 2022, and the diagnosis and treatment planning curriculum also currently launching, supports a procedure- and workflow-based approach. The online on-demand courses are designed to meet the individual needs of the learner – at home or in the office. Combined with hands-on training at one of our 55 global state-of-the-art DS Academy training and education centers, dental professionals can gain the confidence needed to expand patient care.
Dentsply Sirona is known for its innovative strength in endodontics Dentsply Sirona is known for its innovations in endodontics and for the precision in production of its endodontic files. In Ballaigues,
Switzerland, the company produces an endodontic file every four seconds on average, to help preserve millions of natural teeth each year. The clinically oriented and technology-driven systems such as WaveOne Gold, ProTaper Ultimate and TruNatomy are made for complete endodontics workflows including Shaping, Cleaning and Obturation.
The new Endodontics Curriculum is now available on Dentsply Sirona's website.
About Dentsply Sirona
Dentsply Sirona is the world's largest manufacturer of professional dental products and technologies, with over a century of innovation and service to the dental industry and patients worldwide. Dentsply Sirona develops, manufactures, and markets a comprehensive solutions offering including dental and oral health products as well as other consumable medical devices under a strong portfolio of world class brands. Dentsply Sirona's products provide innovative, high-quality and effective solutions to advance patient care and deliver better and safer dental care. Dentsply Sirona's headquarter is located in Charlotte, North Carolina. The company's shares are listed in the United States on NASDAQ under the symbol XRAY. Visit www.dentsplysirona.com for
more information about Dentsply Sirona and its products.
Stay Relevant in Endodontics
Sign up for webinar invitations, peer-written articles, and cutting-edge case studies.