Foundation for Endodontics supports charitable care in Jamaica
More than 100 teeth have been saved with root canal treatment, thanks to volunteer endodontists and endodontic residents who have provided free treatment to patients in need in Treasure Beach, Jamaica. Three trips conducted over the past year are part of the Foundation for Endodontics' Outreach Program, a new initiative to provide patients with the highest standard of care and access to treatment to save teeth that might otherwise be extracted.
"A lost tooth has serious emotional, social, and physical consequences," said Foundation for Endodontics President Dr. Peter A. Morgan. "The opportunity to preserve a tooth with root canal treatment often isn't an option for patients who have limited access to care. Our teams are honored to be there to relieve pain, save teeth, save smiles, and improve lives."
The Foundation for Endodontics' team provides root canal treatment at the Helping Hands Clinic in Treasure Beach, Jamaica.  Foundation volunteers Dr. Fiza Singh of Boston; Dr. Juheon Seung, a resident at the University of Maryland; and Dr. Eduardo A. Cruz, a resident at Harvard School of Dental Medicine; recently returned from their charitable care trip to Jamaica. The volunteers are working in Treasure Beach's Helping Hand Clinic, a church that has been converted into a dental clinic. The teams of endodontists work under the guidance of Drs. William Griffin and James Carney, who have a long-standing association with the facility. In addition to providing treatment, the volunteers are educating patients about the benefit of saving their teeth and working side-by-side with general dentists and pre-doctoral students from the United States, thereby enhancing their understanding of the endodontic specialty.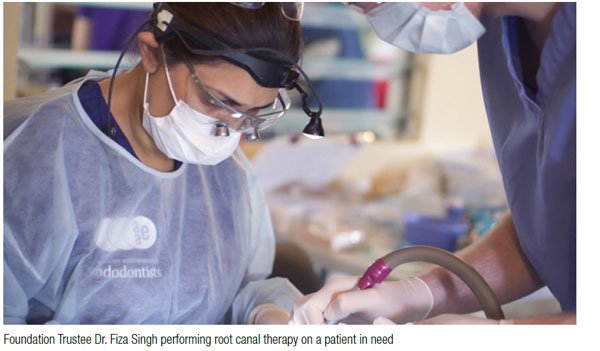 "It is very emotional. I am thrilled with what we are doing," said volunteer Dr. Daniella S. Peinado, an endodontist in Jacksonville, Florida, and a Foundation for Endodontics Trustee. "The excitement and commitment of this team is something really amazing, and the patients are so grateful that we're able to save their teeth."
Dr. Singh added, "It was an eye-opening experience to see so many people living in pain. They have quickly learned that they can save their teeth by having a root canal by a specialist. The result is that patients who haven't been able to smile for years now can live and work in confidence."
For the three initial trips, the Foundation received support from Seiler Instrument, Inc., Brasseler USA®, and Patterson Dental Supply. Recently, the Henry Schein® Cares Foundation has agreed to sponsor four trips a year for 5 years. The funds provided to the Foundation by Henry Schein Cares will cover the cost for two residents and one endodontic mentor to travel to and stay in Jamaica as well as a license to practice in the country, med-vac insurance, and other precautionary measures. In addition, Henry Schein Cares will provide the needed dental supplies for each trip. The Foundation plans to grow this initiative and provide a wider array of opportunities at U.S. domestic locations.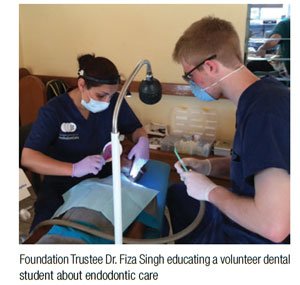 Plans are underway for the first Outreach USA project in collaboration with the Endodontic Residency Program at Albert Einstein Medical Center in Philadelphia. Dr. Fred Barnett, Chairman and Program Director of Endodontics, is putting the final plans together for an Outreach program at the Project Home Clinic. Endodontic residents and faculty from his program will work at this clinic established by Sister Mary Scullion as part her well-known Project Home. Dr. Louis Rossman, a Philadelphia endodontist and faculty member at Einstein, has worked hard to bring this project to reality.
Foundation President, Dr. Peter Morgan, states that he envisions the Foundation for Endodontics funding many more such projects. "This is a wonderful way for our Foundation to raise the standard of care for patients with limited access to care.  Bringing endodontic specialists to the basic care clinics helps patients save their natural teeth and provides unique educational opportunities to all involved."
By funding these Outreach Projects, the Foundation for Endodontics continues to be a leader among dental foundations and fulfills its mission to provide care to the underserved and public awareness of the value of saving natural teeth.
The Foundation for Endodontics
The mission of the Foundation for Endodontics is to support endodontics by providing resources and funding for research, education, public awareness, and access to care. The Foundation for Endodontics supports saving natural teeth for all through the efforts of endodontic specialists. For information about the Foundation for Endodontics, please visit www.aae.org/foundation.
Stay Relevant in Endodontics
Sign up for webinar invitations, peer-written articles, and cutting-edge case studies.