Editor's intro
For a unique endodontic space, Boyd Industries' products are tailored to endodontists' specific needs.
"Built to Last. Built for You. Built by Boyd" is more than a tagline; it signifies the commitment that everyone at Boyd makes to each of our dental specialist clients. Best known for the durability and reliability of our award-winning products — including exam and treatment chairs, surgery tables, mobile storage, and clinical cabinetry — we combine over 60 years of design and manufacturing expertise to perfectly fit your unique space and personal style. The Boyd team takes great pride in the craftsmanship and longevity of all products built at our U.S.-based facility, so that you can take pride in your office for years to come.
As an industry expert in the design of specialty equipment, Boyd has developed a line of products specifically for the endodontic market.
Featured Product: S3100LC Endodontic Chair
Boyd Industries is proud to promote our new dental treatment chair designed for endodontic procedures. This chair combines reliable functionality with elegant design and includes ergonomic features to accommodate doctor, assistant, and patient needs.
What makes the S3100LC design unique?
Lockable swivel base capable of 90 degrees of rotation from center (180 degree total rotation) to ensure greatest ease of patient positioning and entry/egress.
Lift column base allows chair to be raised or lowered with precision in a fixed field of view.
Tapered back design facilitates closer assistant positioning while maintaining patient comfort. Low profile, double articulating headrest for proper positioning of patient
Easy-to-access membrane switches on left and right side of chair back control both base and back adjustments. Three programmable settings for one-touch control to articulate chair to frequently used positions with a "Home" button to return chair to lowered and upright position for patient egress.
Ultraleather Pro™ fabric upholstery and memory foam come standard to support maximum patient Ultraleather Pro™ is ink and stain-resistant, with antimicrobial disinfecting ingredients.
Standard Features
Integrated smooth swivel with easy-access release lever
Programmable hand controls integrated on both sides of the chair back
Detachable and programmable foot control
Low-voltage DC actuator vertical lift column base (rated for patients up to 500 lbs.)
Tapered back with sculpted headrest location to allow proper positioning
Lever-release drop down arms
Ultraleather Pro™ and memory-foam upholstery
Fixed toe section with clear plastic foot-protector cover
Pinch-lock, double-articulating head-rest
Featured Product: BOS310 Endodontic Stool
The BOS310 Endodontic Stool offers the widest range of adjustments to perfectly fit, support, and protect endodontic specialists' arms, hands, and backs against long-term strain. The BOS310 adapts ergonomic design concepts from Boyd's award-winning doctor- and assistant-seating product line with a patent-pending forearm support system. Built to Boyd's highly recognized quality standards, this seat will provide many years of service.
What makes the BOS310 design unique?
Hands-free armrest rotation reduces the necessity of glove disposal and replacement during standard procedures.
Patent-pending arms may be rotated individually into seven different positions, up to 90-degree rotation, to offer maximum ergonomic arm and hand positioning.
Arm-locking feature to ensure stability at each position.
Adjustable arm height and width to ensure correct posture.
New curved-back bracket design adjusts to your most comfortable seated position for increased lumbar support and reduced strain.
Standard features
Five (5) caster aluminum base, with neoprene-coated dual-wheel casters for smooth movement
Wide, ergonomic seat for added stability and comfort
Pneumatic cylinder height adjustment
Seat tilt to allow adjustment for proper pelvic/spine alignment
Padded backrest for your comfort
Choice of upholstery from the full range of Boyd-approved suppliers to seamlessly match your office design
Featured Product: Prestige Endodontic Cart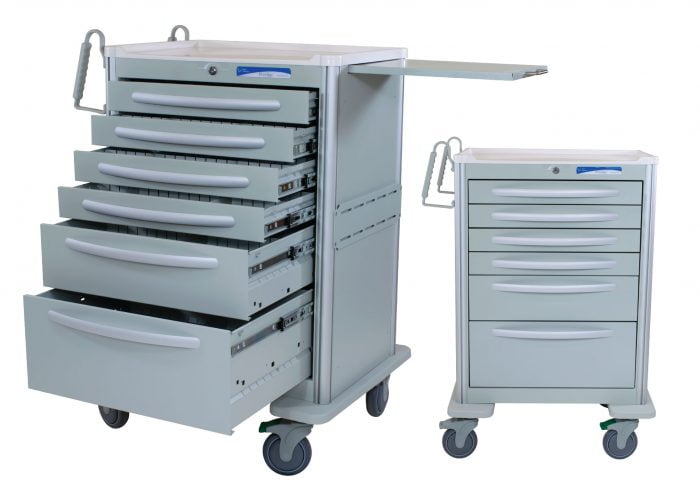 The Prestige Endodontic Cart has been fitted with a lightweight aluminum body and all the features you need: aseptic surfaces for easy cleaning, sectioned drawers for intuitive organization, and a sleek, contemporary esthetic.
Standard Features
A removable plastic top designed for easy cleaning, in addition to dual slide-out surfaces for added work space.
5″ easy-rolling wheels for smooth transit from patient to patient. Wheels lock for stability.
Durable, scratch-resistant, nylon-reinforced polycarbonate bumper protects the cart's wheels and exterior from wear-and-tear over time.
Auto-closing, ball-bearing drawers. Features four 3″ drawers, one 6″ drawer, and one 9″ drawer.
Dimensions: 29″ x 25″ x 42″
The Boyd team has made every effort to create specialized products that are truly "Built for You." These featured products can be combined with Boyd's custom clinical and office cabinetry to create a fully cohesive office space. Personalize your practice with nearly limitless combinations of color and print laminates and the widest range of upholstery choices on the market. Reach out to your regional sales representative today to get started!
To learn more, visit us at www.boydindustries.com or stop by our booth during the American Association of Endodontists (AAE) Annual Meeting in 2020! You can also follow us on Instagram and Twitter @BoydIndustries.
Boyd Industries is an ISO 13485:2016 certified company.
This information was provided by Boyd Industries.
Editor's call to action
For more than 60 years, Boyd Industries has been creating products with expertise as well as for the unique endodontic space. Read more here.
https://endopracticeus.com/industry-news/events/boyd-industries-inc/
Stay Relevant in Endodontics
Sign up for webinar invitations, peer-written articles, and cutting-edge case studies.