Editor's intro: The XLDent Endo Suite software solution evolves to fit endodontists' needs and provide all the tools needed to run a practice more efficiently.
A software solution made for you and your patients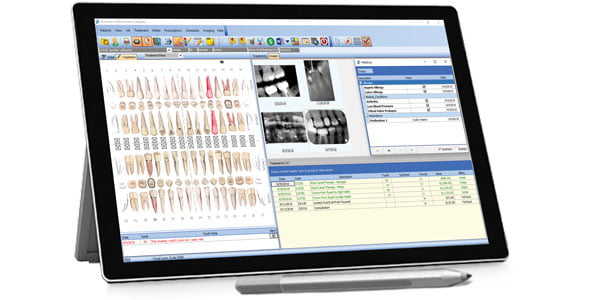 Endodontic practices are unique, requiring software solutions that are equally distinctive. When your business is referral-based and patient-focused, a "one-size-fits-most" dental software solution just doesn't cut it. The XLDent Endo Suite is the simple stress-free solution you need for your growing endodontic practice.
XLDent Endo features customizable endodontic forms allowing you to obtain treatment consent chairside using digital ink technology. This mobile, tablet-friendly feature is entirely paper-free. Charting and treatment plans can be done using touchscreen technology, while treatment-triggered progress notes make thorough documentation quick and convenient. XLDent's ImageXL digital imaging software integrates seamlessly to provide an efficient and comprehensive charting experience.
The XLDent Endo Suite works for you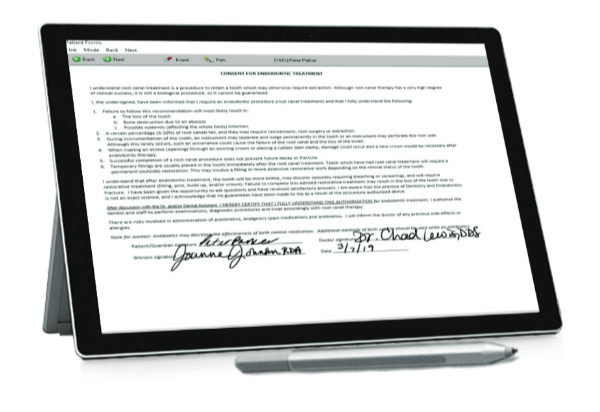 While you are working chairside, XLDent Endo is working to improve office efficiency and productivity. The software features interactive sorting, filtering, and grouping of practice data that allows you to see exactly what you need without the clutter. XLDent Endo has referral tracking and customizable follow-up letters to fit the needs of the busy endodontic practice — everything you need to handle insurance claims plus patient statements, to receive electronic EOBs plus payments, and to manage your business in one comprehensive platform.
A patient-centered approach
The successful patient-centered endo-dontic practice wants patients to feel connected to their dental care, and the XLDent Endo Suite provides the tools to do just that. A patient portal allows patients to view upcoming appointments, planned treatments, statements, and more. Patients can fill out registration and health history forms and even pay an outstanding balance, all from the comfort of their own home. Automated appointment reminders will keep missed appointments to a minimum and help fill holes in the schedule. When your patient walks into the office, check-in is efficient and paperless. Once in the operatory, clinicians can review planned treatments and images directly in the chart together with patients, helping to make the best choices regarding their health.
Smart technology. Efficient solutions.
The XLDent Endo Suite has everything you need to take your practice to the next level. As your practice grows, the software has the ability to evolve to fit your needs. Both cloud- and server-based options are available, with unique solutions to seamlessly join multiple specialties and connect and manage multiple locations. XLDent Endo is the comprehensive management solution that ensures you and your team have all the tools needed to run your practice more efficiently and profitably and will provide you with the platform you need to grow your business.
What truly sets XLDent Endo apart from its competitors is not only best-in-class software, but also the service and support that comes with it. The company has been developing software and serving the dental community since 1971. When you call XLDent, you can expect outstanding customer service from staff that are experts in the industry. They are known for their commitment to providing innovative software solutions and listening to client needs to offer the best solutions in the industry. XLDent is the perfect partner for you and your endodontic practice.
To learn more, call 800-328-2925, or visit www.xldent.com to schedule a demo.
This information was provided by XLDent.
We enjoy bringing the latest software solution, information, techniques, and products to our endodontic audience, and we are always looking for new authors! Read our Guidelines for Authors here.