Editor's intro : elements™ e-motion motor is a result of KaVo Kerr's continued research and development efforts — with updated design and functional improvements that can improve the ease and effectiveness of root canal treatment. 
Dr. Gary Glassman describes a product that improves the ease and effectiveness of root canal treatment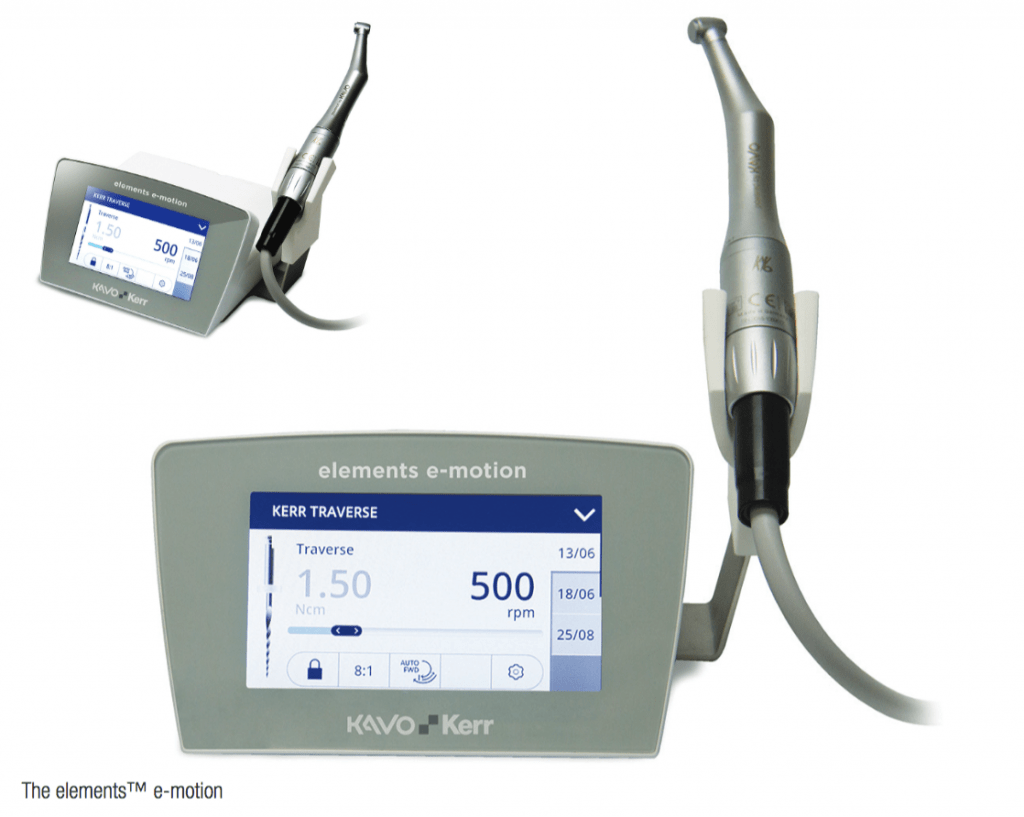 With the world of dental technology continuing to rapidly evolve and change, KaVo Kerr remains at the top of its game with a strong commitment to dental excellence.
As the company succeeds in producing advanced dental products, the attention paid to the quality of their work results in bringing great challenges for their competitors.
This month the spotlight is on the new elements™ e-motion motor, a modernized endo motor that provides optimal efficiency. This German-manufactured and designed model comes equipped with intuitive menus, an easy-to-use, large, colored touch screen (one of the largest on the market), and an interface that allows five fully customizable presets with up to 10 file options each in addition to 24 preset file systems, making it more manageable to set up the clinician's specific file sequence out of the database.
It is also very easy to get software updates, if necessary, and one need only use a laptop with Windows 7 or higher and an adapter program to do so. The new elements e-motion Endodontic motor makes it a great investment for those practicing endodontics.
With superior strength, providing high durability, and the continuous run of the file till, a torque of about 0.2 Ncm is reached, which means that the Adaptive Motion will only start after a higher torque is reached.
The elements e-motion motor has made great strides when measured against the company's current motor with Adaptive Motion, as it comes with an improved higher cutting efficiency and is better able to resist breakage/deformation and canal transportation.
When compared to other endodontic motors on the market, the more contemporary-looking elements e-motion is both smaller and lighter and can be best compared, by its resemblance, to the successful ELECTROmatic™ system. The elements e-motion also comes with a small footprint, occupying less space than those in its class. This perfectly balanced instrument has a lightweight controller system of approximately 680 g/24 ounces and a footprint of approximately 148 x 168mm/5.83″ x 6.61″. Another reason to favor the elements e-motion is its smaller volume when compared other endodontic motors on the market in addition to the current Elements Motor. It also includes, in the package, a foot control, a 2-meter power supply cable, an 8:1 handpiece, and a motor cable with a KL 703 KaVo motor.
One of the superior features of this model that makes it of a higher rank is the KaVo- powered, flexible, 8:1 stainless steel handpiece, with a handpiece holder that offers four multiple mounting options, which is suitable for both right-handed and left-handed users. This furthers ease and precision while finding comfort in navigating the system during treatment.
In a world with continual research and development, many devices enter the market every day. Excellent endodontic clinicians know how important it is to find ways to improve their technique and will keep reaching for outstanding products. This is why the elements e-motion motor is a game changer for clinicians. It is a functional improvement due to the updated KaVo design (and software) with the added Adaptive Motion feature. The elements e-motion is also a wise investment since it will improve the ease and effectiveness of root canal treatment, while adding great value to your practice.
elements™ e-motion motor is a part of KaVo Kerr's family of products. Learn more about another endodontic innovation from KaVo Kerr, the Traverse™ Rotary Glide Path File, here.